Johnson & Johnson (NYSE:JNJ) engages in the manufacture and sale of various products in the healthcare field worldwide.
The company is a dividend aristocrat as well as a major component in Dow Jones Industrials and S&P 500 indexes. Over the past 10 years, the company has delivered an average total return of 9.76% annually to its loyal shareholders. One of the largest holders of JNJ stocks is none other than Warren Buffett, the Oracle of Omaha, who is one of the best investors in the world. The company has managed to deliver an impressive 14% average annual increase in its EPS.
[click all charts to enlarge]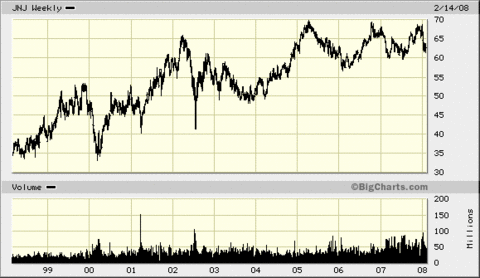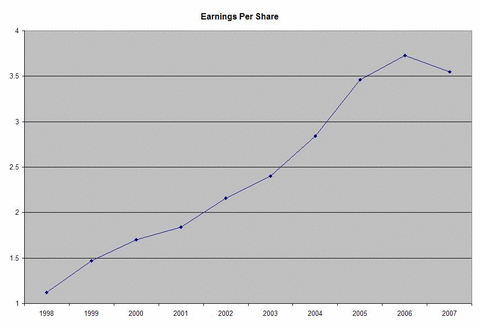 The ROE has been in a 22%-29% range for our study period, which is also an impressive number.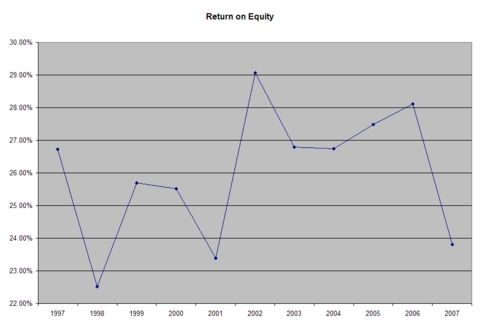 Annual dividend payments have increased over the past 10 years by an average of 15% annually, which is slightly above the growth in EPS. A 15% growth in dividends translates into the dividend payment doubling every 5 years. If we look at historical data, going as far back as 1970, JNJ has indeed managed to double its dividend payments every five years.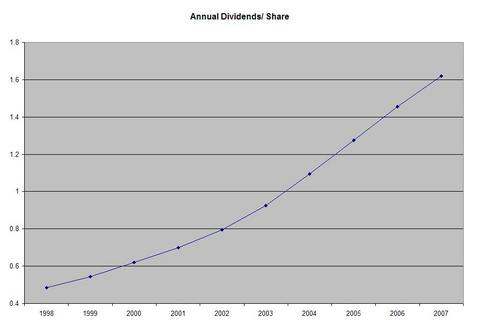 If we invested $100,000 in JNJ on December 31, 1997 we would have bought 3036 shares (adjusted for a 2:1 split in June 2001). Your first quarterly check would have been $333.96 in early 1998. If you kept reinvesting the dividends though instead of spending them, your quarterly payment would have risen to 1486.53 by November 2007 and you would be expecting to collect $1495.66 in late February 2008. For a period of 10 years, your quarterly dividend has increased by 277.27 %. If you reinvested your dividends though, your quarterly dividend would have increased by 345.12%.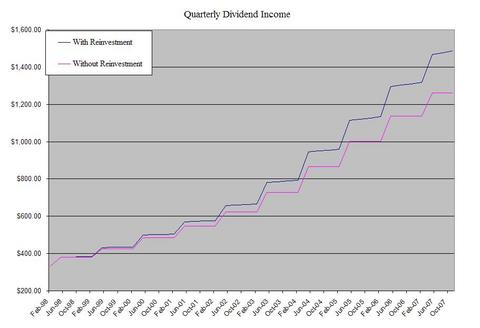 I also like the fact that the company's dividend payout has not exceeded 50% over the past 10 years, in addition to the low P/E ratio which is less than 20 and the above average dividend yield of 2.60%.